Serving Thornhill, Richmond Hill, Vaughan and Markham
At Bathurst Centre Dental Care, we provide a wide range of dental services in an advanced, modern clinic.
Our friendly and experienced team of dentists and dental hygienists will ensure your visit to our office is a pleasant one. Every patient receives personal attention and care from our knowledgeable staff at every visit.
Each of our dental treatment rooms is equipped with the latest in dental treatment technology and is configured to maximize your comfort with ceiling-mounted televisions that show your choice of in-chair entertainment from a variety of sources, including Netflix.
Bathurst Centre Dental Care practitioners are members of:
The Bathurst Centre Dental Care Team
Our team is composed of caring dental professionals who are dedicated to excellence and caring for your dental health from your first visit through to any post-treatment needs.
Every member of our team carries the appropriate Ontario certification for his or her position and invests regularly in continuing education courses to keep on top of the latest advancements in dental technologies and techniques. This commitment to education means that you will receive advanced, gentle dental care every time you visit our office.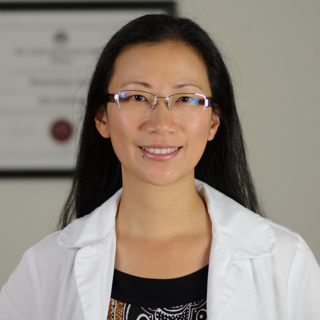 Dr. Qin Li
Doctor of Medical Dentistry
Dr. Qin Li obtained her Doctor of Medical Dentistry degree from McGill University in 2006 and completed an Advanced Education in General Dentistry residency program from University of Connecticut in 2007.  Since then, Dr. Li has cared for thousands of patients at pediatric, geriatric and family clinics in California, Ottawa, and the greater Toronto area.  She is passionate about providing leading edge, comfortable and fair dental treatment to all of our patients.
Dr. Li is a certified provider of Invisalign invisible braces and Six Month Smiles clear braces. She is also fluent in English and Mandarin.
Maarika
Registered Dental Hygenist
Maarika has been a dedicated practitioner of Dental Hygiene since 2009. She enjoys educating her patients on the fundamentals of preventative dentistry and helping them improve their oral and overall health. She is a graduate of the Dental Hygiene Program at Durham College and holds a Bachelor of Fine Arts in Drawing and Painting from OCAD University. She also studied at the École nationale supérieure des Beaux-Arts in Paris, France. In her free time, Maarika enjoys gardening, cross country skiing, and exploring galleries and museums throughout the world.
Cherrielyn
Registered Dental Hygenist
Cherrielyn has worked in the field of dentistry since 2012. She is a graduate of the Dental Hygiene Program at the Toronto College of Dental Hygiene. With her warm smile and gentle hands, she creates a comfortable and rewarding dental experience for every patient. She enjoys getting to know her patients individually and can even inspire those that shy away from a dental visit to look forward to coming back. Cherrielyn loves spending time with her twin boys and enjoys outdoor activities like travelling, hiking, and camping with her family and friends. Cherrielyn is fluent in both English and Tagalog.
Sophie
Office Administrator
Sophie joined Bathurst Centre Dental Care in the spring of 2019. Prior to that, she worked as a dental office administrator for 10 years and is very familiar with various dental procedures. Prior to joining the dental field, she worked several years as a medical office administrator in a family medical practice and a cardiologist's office. She enjoys interacting with patients and making them feel at ease and
comfortable with their dental treatment.
Sophie loves animals and in her spare time enjoys listening to music and traveling. She especially enjoys spoiling her 3 young nieces.
Zenaida
Certified Dental Assistant
Zenaida is a Level II Dental Assistant who graduated from Medix School Toronto in 2011 and has been a certified member of the Ontario Dental Assistants Association ever since. Prior to that, she completed a certification in Personal Support Work.  Zenaida has been working in the healthcare field for over 17 years and finds the work very rewarding. When she's not working, she enjoys watching non-fiction films, documentaries and animated movies with her son.  During the summer months, she also enjoys outdoor activities like hiking and camping. Zenaida is fluent in English and Tagalog.