What is Six Month Smiles?
Six Month Smiles® braces is a system of cosmetic braces that uses clear brackets and wires that are almost unnoticeable at most distances. It is meant for adult patients who do not want to go through two years of comprehensive orthodontic treatment, but would still like to improve their smile and gum health in a short period (typically 4-9 months). You can see significant results with the system in just six months!
What is involved in a typical Six Month Smiles treatment plan?
Photos below are from Dr. Li's actual patient cases.

A typical Six Month Smiles treatment plan will begin with a free consultation.
If you are a candidate for Six Month Smiles treatment plan, the dentist will take photos and an impression of your teeth.  At your next visit, the clear brackets will be cemented to your teeth and the clear wires that move your teeth placed in the brackets.
Follow up appointments each month will allow the dentist to adjust the tension of the wires, which will shift your teeth into the desired positions.  When the desired results have been achieved, the brackets and wires will be removed.  You will be given a clear retainer to wear for a certain period during the day and then only at night to prevent your teeth from gradually returning to their previous positions.
Does my dental insurance cover Six Month Smiles?
Coverage will vary from policy to policy.  We can confirm your coverage (if any) when you come in for a free Six Month Smiles consultation.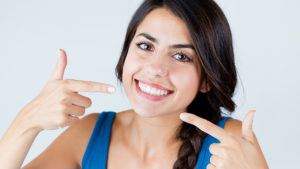 Free whitening and retainers with your Six Month Smiles® Clear Braces!
For a limited time, receive free teeth whitening (a $150 value) for any Six Month Smiles® clear braces treatment , plus a set of clear retainer!
Come in for a free Six Month Smiles consultation and a certified professional will explain the treatment process, available options and associated costs. At the conclusion of your treatment, receive free teeth whitening to add some extra shine to your smile!
There is absolutely no obligation. Book your free consultation today!
There are no hidden fees, and no obligation. Offer valid until M 28, Y.