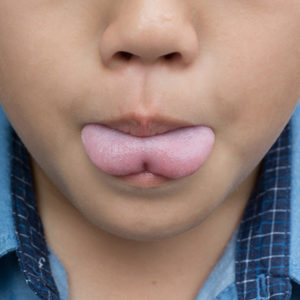 Ankyloglossia, also known as tongue-tie, is a congenital oral condition that may decrease mobility of the tongue tip and is caused by an unusually short, thick lingual frenulum (the membrane connecting the underside of the tongue to the floor of the mouth.) Tongue-tie varies in degree of severity from mild cases, to complete ankyloglossia whereby the tongue is tethered to the floor of the mouth. Tongue-tie can affect eating, speech, and oral hygiene.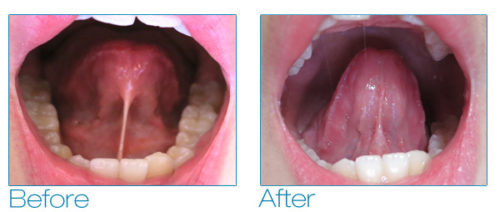 You dentist can perform a simple procedure called frenectomy, in which an incision in the frenulum permits increased movement of the tongue.  Freeing the movement of the tongue can help prevent problems with speech, contribute to the proper development of eating and swallowing, and consequently reduce the risk of gum disease and tooth decay. The procedure is typically done with just a small amount of local anesthetic (freezing), and can be done with a soft tissue laser or scalpel.
What are the benefits of using a soft-tissue laser vs. a scalpel?
Frenectomies can be safely and efficiently completed with a soft tissue laser with predictable tissue response and minimal bleeding during and after the procedure.  Laser oral surgery also features less wound contraction and reduced scarring and bleeding and almost no chance of post treatment infection when compared with scalpel incisions.